It seems like Helena Justice of the Peace Mike Swingly can't stop issuing bigoted, idiotic remarks. This morning, Washington Post reporter Avi Selk tweeted that he received a rambling, partisan attack from Justice Swingley's official county e-mail account.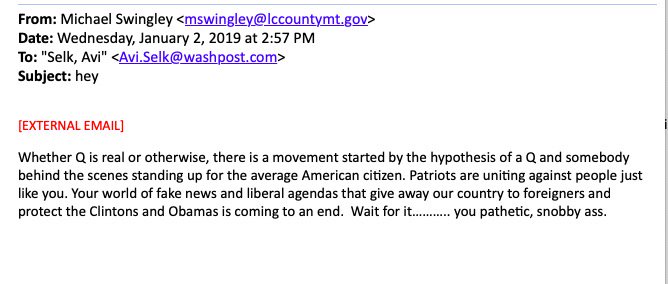 What seems to have made Swingley so angry that he needed to lash out at a D.C. reporter was coverage of the QAnon movement,  an anonymous conspiracy theorist who has gained traction among the rubes who support Donald Trump so much that they believe it's not his corruption and incompetence that are causing his Presidency to fail, but a "deep state" bent on destroying the America of the 1950s.
This, of course, isn't Swingley's first time at the conspiracy trough. Back in 2015, the Montana Cowgirl highlighted his history of bigotry against Arabs, immigrants, President Obama, and women.
More troubling, Swingley used his official county account to write a bigoted screed defending Helena's Confederate monument, arguing in a grammatically challenged piece that:
the "Arabic writing" at the Civic Center should be removed because "it reminds me of the Arabic writing on the flag of ISIS and as 99.9% of the terrorist [sic] in the world have turned out to be Islamic fundamentalist and Arab speaking."
the largest reason for the Civil War as economic, that the Southern states wanted to print their own currency.
And it's hard not to wonder if those bigoted attitudes don't affect Swingley's decisions from the bench.  In 2016, MT Cowgirl reported that Swingley released a deputy sheriff who issued bigoted threat at a party while waving a gun around:
A Lewis & Clark County deputy sheriff who got all liquored up at a neigbor's bachelor party and, according to court documents, threatened a half-Asian guy with a gun, pointing it directly at his chest several times after calling him "an ISIS", was released on his own recognizance by a local Justice of the Peace even though he originally had a $50,000 bail.
While Swingley issued a half-hearted non-apology hours after Selk tweeted, it's fair to ask whether someone coming before him in court can possibly expect a fair hearing, both because of his intemperate, inaccurate, and racist views and because he seems unable to control himself from expressing those views on the job.
Swingley needs to issue a real apology, not one that resorts to his typical combination of self-aggrandizement ("At my own physical and emotional expense. I do everything possible…" and non-sequitur ("Hospitals charge $7 for a Tylenol and we wonder why nobody can afford health insurance"). After that real apology, he needs to take some time to reflect on what it means to be a justice and how his views have affected the people in his court.
Lashing out at a broken system of governance–when you are a part of the legal and government apparatus yourself–when you've made another serious blunder isn't an apology; it's a reminder that Swingley needs to reflect on his own behavior and his own views.
If he won't do that, and convincingly apologize, it's time for him to resign.